Now you can Download latest free version of Adobe Premiere Pro 2024 with trial test using Direct link for your platform.
What is Adobe Premiere Pro ?
Adobe Premiere Pro is a professional video editing software developed by Adobe Systems. It is used by filmmakers, video editors, and other multimedia professionals for creating high-quality video content for film, TV, and online platforms.
Adobe Premiere Pro allows users to edit and manipulate video and audio files with a wide range of tools and features. The software provides a timeline-based editing interface where users can arrange and edit video clips and audio tracks, apply visual effects and transitions, add titles and captions, and more.
Adobe Premiere Pro also offers advanced color grading tools that allow users to fine-tune the look and feel of their videos. Users can adjust the brightness, contrast, saturation, and other aspects of the video to achieve a specific aesthetic or mood.
The software supports a wide range of file formats, including high-resolution formats such as 4K and 8K, as well as formats used by popular cameras and devices. This flexibility makes it a popular choice among professional videographers and video editors.
In addition to its core editing features, Adobe Premiere Pro also offers integration with other Adobe Creative Cloud applications, such as After Effects, Photoshop, and Audition. This integration allows users to seamlessly move between applications and share project files, saving time and streamlining the editing process.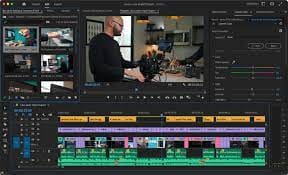 Is Adobe Premiere Pro available for Free ?
No, Adobe Premiere Pro is not available for free. It is a professional-grade video editing software that is part of Adobe's Creative Cloud subscription service, which requires a paid subscription to access.
Adobe Creative Cloud offers several different subscription plans, including a single-app plan that gives users access to a single app, such as Premiere Pro, or a full Creative Cloud plan that includes access to all of Adobe's creative apps.
While Adobe does offer a free trial of Premiere Pro and other Creative Cloud apps, the trial period is typically limited to 7 days, after which users must purchase a subscription to continue using the software.
However, Adobe does offer a free video editing software called Adobe Premiere Rush, which is available for both desktop and mobile devices. Premiere Rush is designed for creating quick and easy video content for social media and online platforms, and it offers a simplified set of tools and features compared to Premiere Pro.
How much does Adobe Premiere Pro cost?
Adobe Premiere Pro is available only through a subscription to Adobe Creative Cloud. The cost of the subscription varies depending on the plan you choose and whether you pay monthly or annually. As of May 2023, these are the current prices for Adobe Creative Cloud plans that include Premiere Pro:
Creative Cloud All Apps: $52.99/month or $599.88/year
Creative Cloud Single App (Premiere Pro only): $20.99/month or $239.88/year
There are also discounts available for students, teachers, and schools, as well as special pricing for businesses and enterprise customers. Additionally, Adobe often runs promotions and discounts throughout the year, so it's worth checking their website or subscribing to their email newsletter to stay updated on the latest deals.
How to Download Adobe Premiere Pro 2024 ?
To download Adobe Premiere Pro, you will need an Adobe Creative Cloud subscription. Follow these steps to download and install Premiere Pro:
Go to the Adobe Creative Cloud website and sign in with your Adobe ID and password.
Click on the "Apps" tab at the top of the page.
Find Adobe Premiere Pro in the list of apps and click "Download" to start the installation process.
Follow the on-screen prompts to complete the installation. You may be prompted to select installation options and choose a location to install the software.
Once the installation is complete, launch Premiere Pro from the Creative Cloud desktop app or by clicking the Premiere Pro icon in your applications folder.
How to install Adobe Premiere Pro 2024 ?
Once you have downloaded Adobe Premiere Pro, follow these steps to install it on your computer:
Locate the downloaded file on your computer. The name of the file should be something like "PremierePro_version_number.dmg" for macOS or "PremierePro_version_number.exe" for Windows.
Double-click on the downloaded file to start the installation process.
Follow the on-screen prompts to complete the installation. You may be prompted to agree to the terms and conditions, choose a location to install the software, and select installation options.
Once the installation is complete, launch Premiere Pro from your applications folder on macOS or the start menu on Windows.
Note that the installation process may vary depending on your operating system and version of Premiere Pro. Make sure to check the system requirements for Premiere Pro before downloading to ensure that your computer meets the minimum specifications for running the software.
Where to Find Adobe Premiere Pro 2024 tutorials ?
There are many resources available online to learn Adobe Premiere Pro. Here are some places you can find Premiere Pro tutorials:
Adobe's official Premiere Pro tutorials: Adobe provides a wealth of tutorials on their website, covering topics such as getting started, editing basics, audio editing, color correction, and more. You can find these tutorials by searching for "Adobe Premiere Pro tutorials" on their website or by visiting the Adobe Premiere Pro page.
YouTube: There are countless Premiere Pro tutorials on YouTube, ranging from beginner-level to advanced. Some popular channels to check out include Premiere Gal, Cinecom.net, and Justin Odisho.
Lynda.com: Lynda.com is an online learning platform that offers in-depth courses on Premiere Pro and other creative software. It requires a subscription, but many libraries offer free access to Lynda.com with a library card.
Udemy: Udemy is an online learning platform that offers a variety of courses on Premiere Pro, ranging from beginner to advanced. Some courses are free, while others require payment.
Online forums: There are many online forums and communities dedicated to Premiere Pro, such as the Adobe Community forums or the Premiere Pro subreddit. These communities can be a great place to ask questions and get feedback on your work.
No matter where you choose to learn, it's important to practice and experiment with Premiere Pro to develop your skills and understanding of the software.
What apps are available from Adobe?
Adobe offers a suite of creative software that includes many popular applications. Here are some of the other famous apps in the Adobe Creative Cloud:
Photoshop: Adobe Photoshop cc is a photo editing software that is widely used by photographers, designers, and artists. It includes tools for editing, compositing, and retouching photos, as well as creating digital artwork.
Illustrator: Adobe Illustrator is a vector graphics software used for creating illustrations, logos, and graphics for print and web. It includes tools for drawing, typography, and color manipulation.
InDesign: Adobe InDesign is a desktop publishing software used for creating layouts for print and digital media. It is often used for designing magazines, books, and brochures.
After Effects: Adobe After Effects is a motion graphics and visual effects software used for creating animations, compositing, and video editing. It is often used for creating title sequences, special effects, and motion graphics for film and television.
Lightroom: Adobe Lightroom is a photo editing and organizing software used by photographers to manage and edit large volumes of photos. It includes tools for editing, color grading, and batch processing photos.
These are just a few of the many applications available in the Adobe Creative Cloud like Adobe Acrobat Pro DC. Each software is designed to help creatives accomplish specific tasks in their creative workflows, and together they provide a comprehensive suite of tools for digital content creation.