When it comes to choosing a web browser for your PC, there are several options available, each with its unique features and advantages. In this article, we will delve into Opera, one of the popular web browsers, and explore its features, pros and cons, extensions, and provide a step-by-step guide on how to download and install Opera on your Windows PC.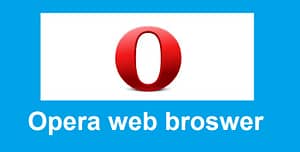 Understanding Opera and its Features
Opera is a feature-rich web browser that offers a range of functionalities to enhance your browsing experience. Let's explore its main features:
Speed and Performance:

Opera is known for its fast browsing speed, thanks to its efficient rendering engine and optimization techniques.

Security and Privacy:

Opera places a strong emphasis on security and privacy. It offers features like a built-in ad-blocker, tracking protection, and a free VPN to enhance your online privacy.

Personalization and Customization:

Opera allows users to personalize their browsing experience with customizable themes, extensions, and a sidebar for quick access to bookmarks and other tools.

Opera Turbo:

This feature compresses web pages, reducing data usage and improving loading times, making it ideal for slower internet connections.
---
Comparison between Opera, Firefox, Google Chrome, and Vivaldi
To better understand Opera's position among other popular browsers, let's explore the differences between Opera, Firefox, Google Chrome, and Vivaldi:
1# Opera vs. Firefox:
Opera focuses on speed, security, and customization, while Firefox emphasizes privacy and an extensive library of extensions.
Opera offers a built-in ad-blocker and free VPN, which are not native features in Firefox.
2# Opera vs. Google Chrome:
Opera and Chrome both share the same underlying Chromium engine, offering similar browsing speeds and performance.
Opera includes additional features like a free VPN, ad-blocker, and integrated messenger services, which Chrome lacks.
3# Opera vs. Vivaldi:
Vivaldi, like Opera, emphasizes customization and personalization, but with a more power-user approach.
Vivaldi offers advanced features like tab stacking, built-in note-taking, and a more extensive set of customization options.
---
Pros and Cons of Opera:
To provide a balanced view, let's explore the pros and cons of using Opera as your web browser:
Pros:
Fast browsing speed and efficient performance.
Strong focus on security and privacy with built-in ad-blocker and VPN.
Personalization options with customizable themes and extensions.
Integrated messenger services for convenient communication.
Opera Turbo feature for faster browsing on slower connections.
Cons:
The extension library is not as extensive as Firefox or Chrome.
Occasional compatibility issues with certain websites.
The user interface may feel overwhelming for some users.
---
Opera Extensions:
Opera has a range of extensions available to enhance your browsing experience. These extensions provide additional functionality and features. Some popular Opera extensions include:
Adblock Plus: Blocks annoying ads and pop-ups.

LastPass:

Manages passwords and improves online security.

Grammarly:

Helps with grammar and spelling checks while typing.

Pocket:

Saves articles, videos, and webpages to view later.
Also Opera web browser lets you to use google chrome extensions 
---
How to Download and Install Opera on Windows PC:
Follow these steps to download and install Opera on your Windows PC:
Visit the official Opera website at www.opera.com.
Click on the "Download" button on the homepage to initiate the download.
Once the download is complete, locate the installer file and double-click on it.
Follow the on-screen instructions to proceed with the installation.
After the installation is complete, launch Opera and customize your settings as per your preferences.
---
What Are platforms opera supports ?
Opera supports various platforms, providing compatibility across multiple devices. The platforms that Opera supports include:
Windows:

Opera is compatible with Windows operating systems, including Windows 10, Windows 8, Windows 7, and earlier versions.

macOS:

Opera is available for macOS devices, enabling users to enjoy the browser's features and functionalities on their Mac computers.

Linux:

Opera supports popular Linux distributions, allowing Linux users to browse the web using Opera's features and optimizations.

Android:

Opera offers a dedicated browser for Android devices. It can be downloaded from the Google Play Store, providing a seamless browsing experience on smartphones and tablets running the Android operating system.

iOS:

Opera is also available for iOS devices, such as iPhones and iPads. Users can download Opera from the App Store and enjoy its features on their Apple devices.

Chrome OS:

Opera can be installed on Chromebooks and other devices running the Chrome OS. This allows users of Chrome OS to have an alternative browser choice.

Other Platforms:

Opera has expanded its compatibility to include other platforms such as FreeBSD and Solaris, catering to a wider range of users.
It's worth noting that the availability of specific Opera versions and features may vary across platforms. Users can visit the official Opera website to explore the supported platforms and download the appropriate version for their device.
---
Conclusion:
Opera is a robust web browser that offers a range of features and functionalities to enhance your browsing experience. With its focus on speed, security, and personalization, it provides a competitive alternative to other popular browsers like Firefox, Google Chrome, and Vivaldi. By considering the pros and cons and understanding your specific needs, you can determine if Opera is the right browser for you. Download Opera on your Windows PC today and explore the possibilities it offers for a faster, more secure, and personalized browsing experience.