In today's interconnected world, mobile messenger apps have transformed the way we communicate and connect with others. These apps offer instant messaging, voice and video calls, media sharing, and various other features that facilitate seamless communication. With a myriad of options available, it's intriguing to explore the most popular global mobile messenger apps. In this article, we will examine the findings from Statista, a leading statistics portal, to highlight the top-ranking messenger apps based on their active user bases.
Previously, we wrote an article about Best FREE Chat Apps For Android And IOS just read it to download most popular apps in chatting field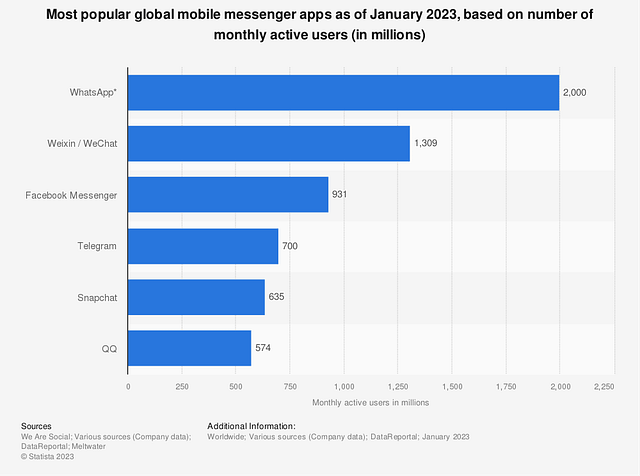 Most Popular global mobile messenger Apps
1# WhatsApp: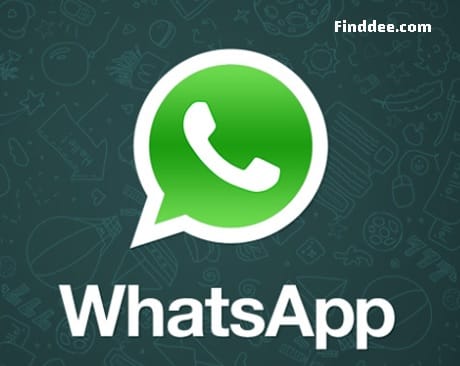 WhatsApp has emerged as one of the leading global mobile messenger apps, with an active user base of over two billion people. Acquired by Facebook in 2014, WhatsApp offers end-to-end encryption, ensuring secure and private conversations. Its popularity can be attributed to its user-friendly interface, cross-platform compatibility, and a wide range of features such as group chats, voice and video calls, and media sharing.
---
2# WeChat: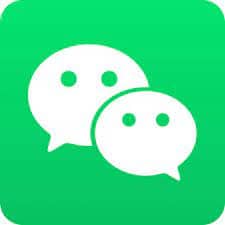 WeChat, developed by the Chinese company Tencent, has gained immense popularity both within China and globally. With over 1.2 billion monthly active users, WeChat offers a comprehensive suite of services beyond messaging, including social networking, digital payments, ride-hailing, and e-commerce. WeChat's success can be attributed to its multifunctional approach, effectively combining communication and everyday services within a single app.
---
3# Facebook Messenger:
With approximately 1.3 billion active users, Facebook Messenger holds a prominent position in the global mobile messenger app landscape. Integrated with the Facebook social network, Messenger allows users to connect with their friends and contacts seamlessly. Alongside text messaging and voice and video calls, Messenger provides features like stickers, GIFs, and a diverse range of interactive chatbots for enhanced user engagement.
---
4# Telegram:
Telegram, known for its emphasis on privacy and security, has garnered a loyal user base of over 500 million people globally. It offers end-to-end encryption and features like self-destructing messages, secret chats, and optional two-factor authentication. Telegram's simplicity, speed, and commitment to user privacy have contributed to its popularity, particularly among individuals who prioritize secure messaging.
---
5# Snapchat:
Snapchat has captivated younger audiences worldwide with its unique approach to messaging. Boasting over 500 million monthly active users, Snapchat allows users to send disappearing photos and videos, along with text-based chats and multimedia sharing. Its creative features, such as filters, stickers, and augmented reality lenses, have made Snapchat a popular platform for self-expression and social interactions.
---
6# QQ:
Originating from China, QQ is a mobile messenger app with a massive user base of over 600 million people worldwide. Developed by Tencent, QQ offers a wide range of features, including text messaging, voice and video calls, group chats, and multimedia sharing. QQ also incorporates social networking elements, allowing users to discover new friends, join communities, and play games together.
---
These additional messenger apps, QQ and Viber, further exemplify the diversity of options available to users globally. Each app has its own unique features and user base, contributing to the dynamic landscape of mobile messaging.
Conclusion:
The world of mobile messenger apps is diverse and vibrant, catering to a wide range of communication needs and preferences. WhatsApp, Facebook Messenger, WeChat, Telegram, Snapchat, Line, QQ, and Viber are among the most popular global mobile messenger apps, each offering distinct features and serving different user demographics. These apps have transformed the way we connect, enabling instant communication, multimedia sharing, and innovative features that enhance the overall messaging experience.
As technology continues to evolve, it will be fascinating to see how these messenger apps evolve to meet the ever-changing needs of users. Whether it's privacy and security, social networking integration, multimedia sharing, or localized services, there is an abundance of choices for users to stay connected with friends, family, and colleagues across the globe.