Accidental data loss can be a devastating experience, but with the right tools, you can recover your valuable files and regain peace of mind. Recoverit is a comprehensive data recovery software designed to help users retrieve lost, deleted, or formatted data from various storage devices.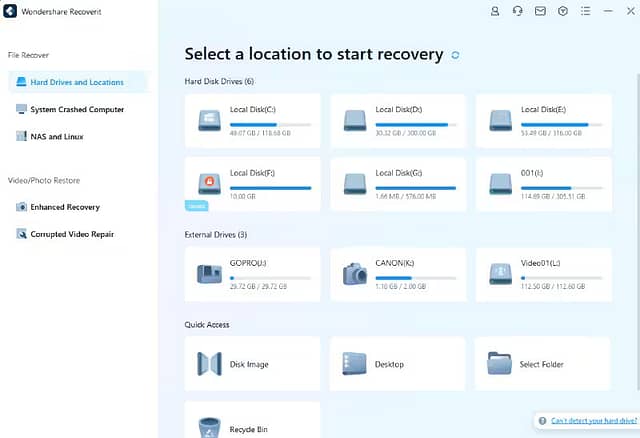 In this article, we will explore the features of Recoverit, its key functions, technical specifications, the downloading and installation process, pricing options, and related software solutions.
---
Features of Recoverit:
File Recovery: Recoverit uses advanced scanning algorithms to retrieve lost or deleted files, including photos, videos, documents, and more, from various storage devices such as hard drives, SSDs, USB drives, and memory cards.

Partition Recovery:

With the Partition Recovery feature, you can restore data from lost, deleted, resized, or damaged partitions, allowing you to recover entire drives or specific partitions.

Trash Recovery:

If you accidentally emptied the recycle bin or trash on your computer, Recoverit can help you recover the deleted files from the emptied trash bin.

Formatted Drive Recovery:

Recoverit is capable of recovering data from formatted or reformatted drives, giving you the opportunity to retrieve files from mistakenly formatted storage devices.

External Device Recovery:

Whether you've lost data from a USB drive, external hard drive, or other external storage devices, Recoverit can assist in recovering your files.

Virus Attack Recovery:

In the event of a virus attack or malware infection, Recoverit can scan your storage devices and recover data that has been affected or encrypted by the virus.
---
Product Keys and Technical Specifications:
Recoverit is available for both Windows and macOS operating systems. Here are the minimum technical specifications for running the software:
Windows:
Supported OS: Windows 10/8.1/8/7/Vista/XP (32-bit or 64-bit)
RAM: At least 1GB (2GB recommended)
Free Disk Space: Minimum of 100MB
Mac:
Supported OS: macOS 11.0 (Big Sur), macOS 10.15 (Catalina), macOS 10.14 (Mojave), macOS 10.13 (High Sierra), macOS 10.12 (Sierra), OS X 10.11 (El Capitan), OS X 10.10 (Yosemite), OS X 10.9 (Mavericks), OS X 10.8 (Mountain Lion), OS X 10.7 (Lion), OS X 10.6 (Snow Leopard)
RAM: At least 1GB (2GB recommended)
Free Disk Space: Minimum of 100MB
---
Supported File Formats:
Recoverit supports the recovery of a wide range of file formats, including but not limited to:
Photos: JPEG, PNG, GIF, TIFF, BMP, PSD, RAW, and more.
Videos: MP4, AVI, MOV, MKV, FLV, WMV, and others.
Documents: DOCX, XLSX, PPTX, PDF, TXT, and more.
Audio Files: MP3, WAV, WMA, AAC, FLAC, and others.
Emails: PST, EML, MSG, and more.
Archives: ZIP, RAR, 7Z, and others.
Recoverit's extensive file format support ensures that you have a higher chance of recovering a wide range of file types, meeting the needs of diverse users with different data recovery requirements.
Overall, with its user-friendly interface, broad file format support, and various recovery options, Recoverit stands as a reliable data recovery solution. While the free version has limitations and successful recovery is not guaranteed in all cases, it remains a valuable tool for users seeking to recover their lost or deleted data.
---
Downloading and Installing Recoverit 2024:
To download and install Recoverit, follow these steps:
Visit the official Wondershare Recoverit website at https://recoverit.wondershare.com/.
Navigate to the "Download" section of the website.
Choose the appropriate version for your operating system (Windows or macOS) and click on the "Download" button.
Once the download is complete, locate the installer file and double-click it to start the installation process.
Follow the on-screen instructions to complete the installation. You may be asked to agree to the license agreement and choose the installation location.
After the installation is finished, you can launch Recoverit from your desktop or the Start menu (Windows) or the Applications folder (macOS).
---
Pricing and Related Software:
Recoverit offers different pricing plans based on your needs. There is a free version available that allows you to recover up to 100MB of data. For unlimited data recovery and additional features, you can choose from various paid plans.
Recoverit also offers related software solutions such as Recoverit Photo Recovery, which focuses specifically on recovering lost or deleted photos, and Recoverit Mobile, designed to recover data from Android and iOS devices.
---
Pros and Cons of Recoverit:
Pros of Recoverit:
User-friendly Interface: Recoverit offers a simple and intuitive user interface, making it easy to navigate and use, even for users with limited technical knowledge.

Wide File Format Support:

It supports the recovery of various file formats, including photos, videos, documents, audio files, emails, and more. This versatility ensures that you can recover different types of files regardless of their format.

Deep Scan and Quick Scan Options:

Recoverit provides both quick scan and deep scan options, allowing you to choose between a faster scan for recently deleted files or a more thorough scan for deeply buried or formatted files.

Preview and Selective Recovery:

The software enables you to preview recoverable files before initiating the recovery process. This feature helps you identify and select the specific files you want to recover, saving time and storage space.

External Device Recovery:

Apart from internal drives, Recoverit also supports the recovery of data from external storage devices such as USB drives, external hard drives, SD cards, and more.
Cons of Recoverit:
Limited Free Version:

While Recoverit offers a free version, it has a data recovery limit of up to 100MB. This might be insufficient for users who need to recover larger files or have extensive data recovery requirements.

No Guarantee of Successful Recovery:

Data recovery is a complex process, and there is no guarantee that all lost or deleted files can be recovered successfully. The effectiveness of the recovery process depends on various factors such as the state of the storage device and the extent of data overwriting.
---
In conclusion
Wondershare Recoverit is a reliable and powerful data recovery software that provides a comprehensive solution for retrieving lost or deleted files. With its wide range of features, compatibility with different storage devices, and user-friendly interface, it serves as a valuable tool for individuals and businesses dealing with data loss. By following the provided information on features, technical specifications, downloading, installation, and pricing, you can equip yourself with a capable data recovery solution and ensure the safety of your important files.