Download Latest Free Version of Skype 2024 using direct links from original website without any directions, and will mention How to download skype step by step and how to install it on your PC.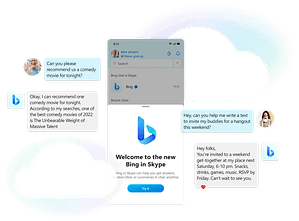 What is Skype ?
Skype is a software application that allows users to communicate via video, voice, and text messages. The software was created in 2003 and is now owned by Microsoft. It was one of the first applications to offer video calling, which has now become a standard feature in many communication apps. In this article, we will discuss the main features of Skype, its pros and cons, and compare it with two popular messaging apps, WhatsApp and Telegram.
Main Features of Skype
Video Calling: One of Skype's most popular features is video calling, which allows users to have face-to-face conversations with anyone, anywhere in the world. Skype's video calling feature is known for its high quality and reliability, making it a popular choice for businesses and individuals alike.
Voice Calling: In addition to video calling, Skype also offers voice calling, which allows users to make phone calls to anyone with a Skype account or a phone number. Skype's voice calling feature also supports conference calls, making it a useful tool for businesses.
Text Messaging: Skype also allows users to send text messages to each other, either individually or in group chats. The app supports multimedia messaging, allowing users to share photos, videos, and files.
Screen Sharing: Skype's screen sharing feature allows users to share their computer screens with other Skype users during a call. This feature is particularly useful for business meetings and presentations.
Translation: Skype also offers a translation feature, which can translate conversations in real-time. This feature is particularly useful for users who communicate with people who speak different languages.
Pros and Cons of Skype
Skype Pros:
High Quality Video Calling: Skype is known for its high quality video calling feature, which is one of the main reasons why it is a popular choice for business meetings and interviews.
Large User Base: Skype has a large user base, which means that it is easy to find and connect with people who use the app.
Integration with Microsoft: Skype is owned by Microsoft, which means that it is integrated with other Microsoft products, such as Outlook and Office.
Cross-Platform Compatibility: Skype can be used on a variety of devices, including smartphones, tablets, and computers.
Skype Cons:
No End-to-End Encryption: Skype does not offer end-to-end encryption, which means that messages and calls are not completely secure.
Privacy Concerns: Skype has been criticized for its privacy policies, particularly around data collection and sharing.
Advertisements: Skype displays advertisements, which can be distracting and intrusive for some users.
Limited Features: Skype has fewer features than some of its competitors, such as WhatsApp and Telegram.
How to Download Skype 2024 For Windows ?
To download Skype for Windows, you can follow these simple steps:
Go to the Skype website: Open your web browser and go to the Skype website at www.skype.com.
Click on "Get Skype": On the Skype homepage, click on the "Get Skype" button located at the top right corner of the page.
Select your device: On the next page, select "Windows" as your device type. You can also choose to download Skype for Mac, Linux, or mobile devices.
Choose your download option: You will be presented with two options to download Skype. The first option is to download Skype for Windows 10 from the Microsoft Store, and the second option is to download Skype for Windows Desktop. Select the option that is best for you.
Click on "Download": Once you have selected your download option, click on the "Download" button to begin downloading Skype.
Install Skype: After the download is complete, locate the downloaded file on your computer and run the installation process. Follow the on-screen instructions to install Skype on your Windows device.
Sign in or create an account: Once you have installed Skype, you will need to sign in using your Microsoft account or create a new account if you don't have one already.
Start using Skype: Once you have signed in or created an account, you can start using Skype to make video and voice calls, send instant messages, and more.
Differences between Skype, WhatsApp, and Telegram
End-to-End Encryption: Both WhatsApp and Telegram offer end-to-end encryption, which means that messages and calls are more secure than on Skype.
Group Chats: WhatsApp and Telegram both offer more robust group chat features than Skype, including the ability to add more participants and customize group settings.
File Sharing: Telegram allows users to share larger files than Skype and WhatsApp, making it a better choice for users who need to share large files.
Voice Calling: WhatsApp and Telegram both offer voice calling features, but they are not as reliable or high-quality as Skype's.
Business Features: Skype is known for its business features, such as screen sharing and conference calling, making it a better choice for business users.
Conclusion
Skype is a popular communication app that offers high-quality video calling, voice calling, and text messaging features. While it has some limitations, such as no end-to-end encryption and fewer features than some of its competitors, it is