TradingView is a popular and powerful web-based platform designed for traders and investors to perform technical analysis, share ideas, and collaborate with other market enthusiasts. Packed with an array of features and tools, TradingView has revolutionized the way traders approach financial analysis.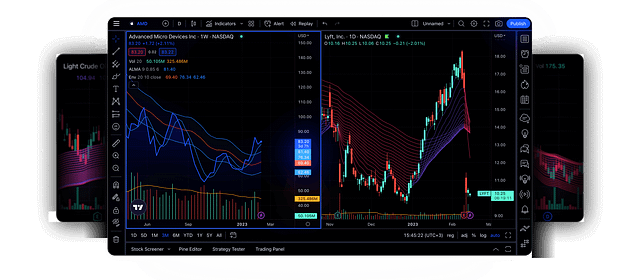 In this comprehensive software guide, we will explore TradingView's key features, pros, and cons, along with step-by-step instructions on how to download and install it. Additionally, we will uncover some hidden features, offer valuable tips for maximizing its potential, discuss its pricing options, and more.
---
Features of TradingView:
Interactive Charts:

TradingView provides highly customizable and interactive charts with multiple timeframes and chart types, allowing users to analyze assets with precision.

Drawing Tools:

The platform offers a wide range of drawing tools, including trend lines, Fibonacci retracements, and Gann fans, enabling in-depth technical analysis.

Technical Indicators:

TradingView offers a vast library of technical indicators that can be applied to charts to aid in decision-making and spotting potential trends.
Social Networking: Users can share trading ideas, analyses, and strategies with the TradingView community, fostering a collaborative environment.

Scripting Language:

Traders can create custom indicators and strategies using Pine Script, TradingView's proprietary scripting language.
---
Pros and cons of TradingView
Pros of TradingView :
User-Friendly Interface: TradingView's intuitive interface makes it accessible to both beginners and experienced traders.

Community Engagement:

The platform's social networking aspect encourages knowledge-sharing and idea generation.

Charting Tools:

Advanced charting tools and technical indicators enhance the precision of market analysis.

Cloud-Based Platform:

TradingView is entirely web-based, eliminating the need for software downloads and ensuring accessibility from any device.
Cons of TradingView :
Limited Historical Data:

Free accounts have limited access to historical data, and extensive historical data is available through paid subscriptions.

Premium Features:

Some advanced features and real-time data require a premium subscription.

Internet Dependency:

As a web-based platform, TradingView requires a stable internet connection for seamless operation.
---
How to Download and Install TradingView 
TradingView is a web-based platform accessible through any modern web browser. There is no need to download or install any software. To get started:
Navigate to the TradingView website (www.tradingview.com).
Click on the "Sign In" button to create an account or log in with existing credentials.
Once logged in, you can access the full suite of features and begin charting, analyzing, and sharing trading ideas.
Download of other platform
For Windows
For macOS
For Linux
For Android
For iPhone
---
Hidden Features of TradingView :
Compare Assets:

You can compare the price movements of multiple assets on the same chart, aiding in relative strength analysis.

Custom Timeframes:

TradingView allows users to create custom timeframes beyond the standard options available.
---
Tips for Maximizing TradingView's Potential:
Master the Drawing Tools:

Practice using different drawing tools to identify patterns and trends accurately.

Experiment with Indicators:

Test various technical indicators and combinations to find what suits your trading style.

Collaborate with the Community:

Engage with the TradingView community, share your analyses, and learn from others' insights.
---
Pricing Options of TradingView :
TradingView offers multiple subscription plans:
Free: Basic features, limited historical data, and delayed real-time data.
Pro: More indicators, intraday data, and faster real-time data.

Pro+ :

Additional features like more server-side alerts and simultaneous charts.

Premium:

All Pro+ features, priority support, and access to the platform's proprietary data.
---
In conclusion
TradingView is a comprehensive and versatile platform for traders and investors, offering powerful tools and a supportive community. Its web-based nature, combined with a range of subscription options, makes it accessible to traders of all levels. By exploring its features, engaging with the community, and optimizing your analysis, you can unlock the full potential of TradingView for your financial ventures.