Are you looking for a fast and reliable way to download large files over the internet? Look no further! uTorrent for Windows is here to fulfill all your torrenting needs. uTorrent is a lightweight and feature-packed BitTorrent client that has earned its reputation as one of the most popular and efficient torrent software available. We'll delve into its technical specifications, highlight its impressive features, provide you with the download link, guide you through the installation process, and examine the pros and cons of using uTorrent.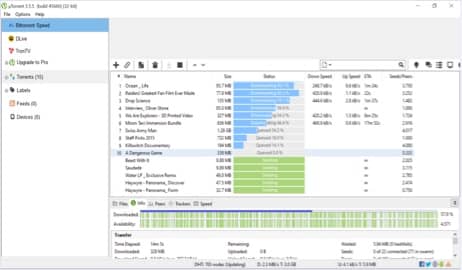 Technical Specifications of uTorrent:
Developer: BitTorrent Inc.
Supported Operating Systems: Windows 10, Windows 8, Windows 7, and Windows XP.
Features of uTorrent:
User-Friendly Interface: uTorrent boasts a simple and intuitive user interface that allows users to start downloading torrents quickly and effortlessly.
Lightweight and Resource-Friendly: Unlike some other torrent clients, uTorrent is incredibly lightweight, consuming minimal system resources, which ensures smooth performance even on older machines.
Fast Downloads: With uTorrent, you can enjoy high-speed downloads, thanks to its efficient handling of bandwidth and support for parallel downloads.
Bandwidth Management: The software enables users to prioritize downloads and set download/upload speed limits, preventing any undue strain on your network.
Remote Access: uTorrent offers a web-based remote control feature, allowing you to access and manage your downloads from anywhere using a web browser or the official mobile app.
RSS Feed Support: Stay up-to-date with your favorite content by subscribing to RSS feeds, which will automatically download new torrents as they become available.
Media Playback: uTorrent includes a built-in media player that allows you to preview your downloads without leaving the application.
Protocol Encryption: To enhance your privacy and security, uTorrent supports protocol encryption, preventing throttling and traffic shaping by your internet service provider.
Multiple Torrent Downloads: You can queue and manage multiple torrents simultaneously without compromising download speeds or performance.
How to Download uTorrent:
To download uTorrent for Windows, follow these steps:
Visit the official website of uTorrent or trusted software repositories.
Click on the "Download" button.
The website will automatically detect your operating system and provide you with the appropriate download link.
How to Install uTorrent:
After downloading the uTorrent executable file, follow these steps to install the software on your Windows computer:
Locate the downloaded .exe file, typically found in the "Downloads" folder.
Double-click the .exe file to start the installation process.
If prompted, grant administrative permissions to proceed.
Follow the on-screen instructions to complete the installation.
Once installed, uTorrent will be ready to use on your Windows system.
Pros and Cons of uTorrent
Pros of uTorrent:
User-friendly and straightforward interface, making it accessible to users of all experience levels.
Low resource consumption ensures smooth performance even on older hardware.
Efficient handling of bandwidth for faster downloads.
Remote access feature allows for management from anywhere.
Protocol encryption enhances user privacy and security.
Cons of uTorrent:
Ad-supported: Some versions of uTorrent may include ads, though there is a paid version (uTorrent Pro) that removes ads.
Reputation for bundled software: In the past, uTorrent installations sometimes came bundled with additional software, but users can avoid this by opting for a custom installation and deselecting any unwanted programs.
In conclusion
uTorrent for Windows is a reliable and efficient torrent client that continues to be favored by millions of users worldwide. Its lightweight nature, impressive features, and user-friendly interface make it a top choice for anyone seeking to download files via the BitTorrent protocol. Whether you're a torrenting novice or a seasoned user, uTorrent offers a smooth and hassle-free experience for all your downloading needs. So, why wait? Start using uTorrent and enjoy a seamless torrenting experience on your Windows system!